'A dream come true' – UK graduate merges passions with online arts administration program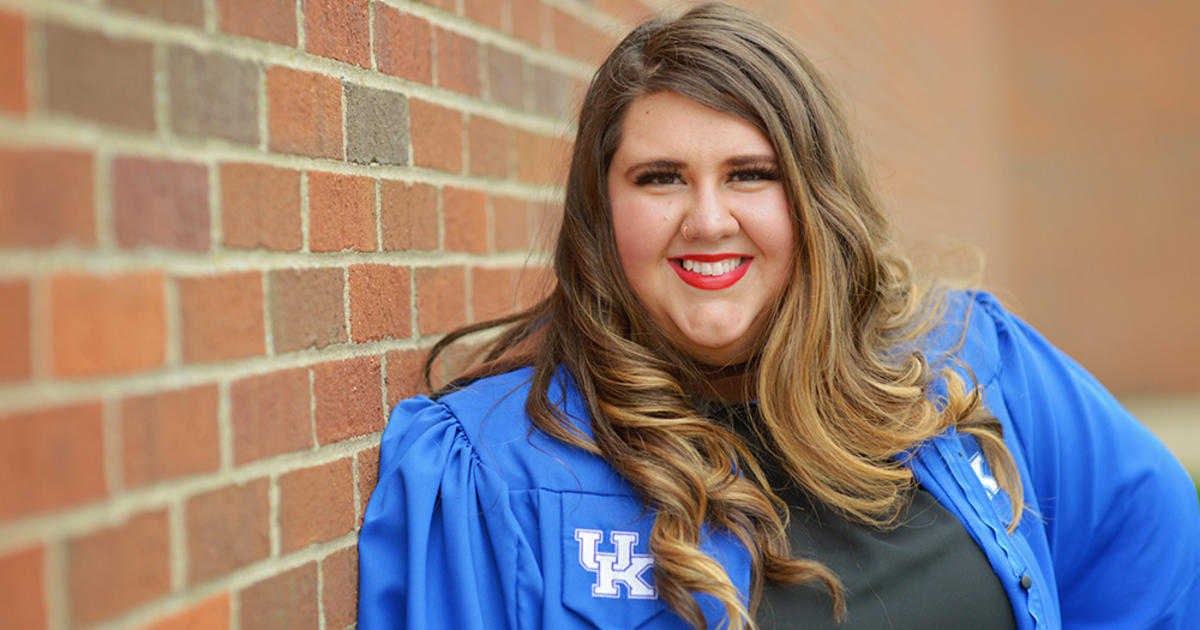 LEXINGTON, Kentucky (May 4, 2022) — On this wild Wednesday, the University of Kentucky is celebrating Taylor Jewell, of Beattyville, Kentucky, who will graduate this week with a Master of Arts in Administration from the UK College of Fine Arts.
Jewell always knew she would pursue a career in the arts.
"Learning and furthering my education has always been very important to me, and in every way I imagined my future, it has always been in the arts."
Jewell received a scholarship to pursue flute at Eastern Kentucky University in 2014. While originally aiming for music education and performance, she later realized a love for another field arts that completely changed its trajectory.
During her first year, she became involved in marketing and ticketing art events.
"Being a classically trained musician will always be an important part of who I am, but not my whole identity," Jewell said. "I started to realize that in the student groups and organizations I was part of, I always ended up on the public relations committee, or being the one who created flyers and posted them on social media."
There was another moment during her freshman year that inspired her to make a change.
"I was sitting in the concert hall of the Singletary Center during an open rehearsal of the Lexington Philharmonic Orchestra, and I heard Allison Kaiser talking about her position as executive director of the orchestra and thinking, 'Yeah.. .this…I want to do this…" I changed my major from music education to music business at the end of this semester.
Upon finishing her undergraduate studies in 2019, Jewell knew she wanted to further her education, but was undecided on what to pursue, so she decided to take a year off and work. When she learned she could combine her love for the arts and her love for marketing, she said it was "a dream come true."
"I knew that to stay true to myself and my dreams, I needed to pursue a graduate degree in arts administration – that's where my heart is."
In 2020, as the COVID-19 pandemic took its hold on the nation and the world, Jewell took a big step forward and decided to enroll in the online Master of Arts Administration program at University of Kentucky College of Fine Arts. The online program gave Jewell the flexibility to continue working and pursuing career opportunities. One such opportunity was to become executive director of the Lexington Chamber Music Festival. The multi-day classical music festival takes place every fall and brings internationally renowned musicians to Bluegrass. This opportunity helped Jewell settle in Lexington and allowed her to explore what being an arts administrator really meant to her.
She also started working at the UK Singletary Center as a ticketing coordinator.
"When I started the masters program during the pandemic, I never imagined that I would later land my dream job of doing box office AND marketing for a performing arts center, let alone one as special than the Singletary Center."
And even though her program is online, Jewell says she's still been able to get involved on campus and form lasting friendships.
"The sense of camaraderie I feel at the University of Kentucky is unparalleled. The College of Fine Arts has truly welcomed me, and I feel so supported in all aspects of my work, college, and life. life in general. Lexington and the UK have such a creative and vibrant art scene and I feel honored to be a part of it.
One of Jewell's favorite British memories was last September – after nearly 18 months without a gig due to COVID-19 restrictions – when the British Symphony Orchestra performed for live audiences again.
"There was a six-minute standing ovation from the crowd, and it was just magical and so emotionally raw," Jewell said. "People don't usually cheer and shout at the end of symphony concerts, but this time they did, and it was so good to be back."
After graduation, Jewell will continue to work at the Singletary Center box office and begin planning for this year's Chamber Music Festival. Her long-term goal is to continue her work in ticketing and marketing for a performing arts center and wants to make classical music more accessible to everyone.
"There's often a stigma that classical music is only for the rich white man, and I live to challenge that thinking," she said. "I want to program more black conductors and artists and more female composers – I want to see these stories told on stage."
Jewell attributes her success to many people, including her mother, and the faculty and staff at the College of Fine Arts, including her supervisor and mentor Matthew Gibson.
"I'm so grateful for the UK College of Fine Arts and the chance to wake up every day and really make art happen."
The Department of Arts Administration at the UK College of Fine Arts leads national and international initiatives in teaching, research, professional and community service to educate and inspire artistic leaders, responsible artists and entrepreneurs. The department offers bachelor's, master's, and doctoral programs, as well as a graduate certificate in fundraising and development.
Learn more at https://finearts.uky.edu/arts-administration.
The UK launch ceremonies will take place on May 6 and 7 at the Rupp Arena in the Central Bank Center. Learn more at commencement.uky.edu.