City of Frisco and Frisco ISD Cancel Plans to Build Common Performing Arts Hall, Opt to Continue Efforts Separately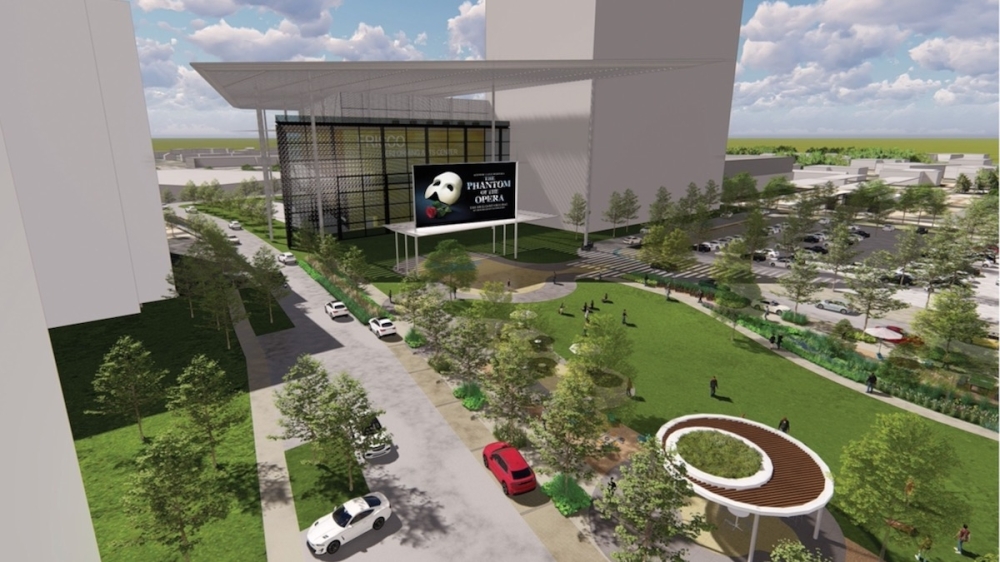 The City of Frisco and Frisco ISD announced Aug. 11 that they are parting ways with a plan to build a joint performing arts center in conjunction with Hall Group and efforts to redevelop its office park.
The announcement says FISD will proceed with plans to build a visual and performing arts center for district use on school property with $43 million approved by voters in 2018.
The city will pursue options for a separate performing arts center in partnership with Hall Group that is described as "a world-class, community-focused, commercially viable facility," the announcement said.
This is the latest in a series of efforts that began more than two decades ago to build a full-scale arts hall for the Frisco community. An initial plan called for a partnership between Frisco and the cities of Allen and Plano on an arts hall in Collin County. But that deal fell apart after a majority of Frisco voters decided in May 2011 to withdraw Frisco's share of the bond money.
A decade later, Frisco ISD, the city and Hall Group signed an agreement to build a $100 million performing arts center and parking lot in Hall Park. The plan was to combine district bond funds with $14 million from the city, $10 million from Hall Group founder Craig Hall, and private funds for a facility no larger than 1,500 seats. Hall also agreed to donate the land for the project.
Some local arts supporters argued for a larger facility to attract touring Broadway shows and other commercial acts. A fundraising campaign launched in August 2021 aimed to raise an additional $100 million for the project. An online petition about efforts to build a new performing arts center sought to have at least 1,750 to 2,000 seats.
But city and school officials learned in May that costs for materials, labor and equipment had risen more than 50% since the June 2021 agreement.
Representatives for Corgan, which was chosen as the project's architect, said a 1,250-seat venue would cost between $135.7 million and $151.1 million.
A 1,500-seat venue would cost between $146.1 million and $158.2 million, and a 1,750-seat venue could cost as much as $181.1 million, according to Corgan estimates.
The Aug. 11 announcement said that due to "each partner's unique priorities, accountability to its stakeholders, and cost issues," the joint effort on a performing arts center would not proceed.
"We are grateful for the support and vision of the City of Frisco and Craig Hall throughout this partnership exploration," FISD School Board Chair Rene Archambault said in the press release. "We share the same goal of an expanded and thriving arts community in Frisco, and we look forward to helping shape that future through increased opportunities for young people in the fine arts. Community investment in arts education will impact our community for generations.
Frisco Mayor Jeff Cheney said the process to get to this point was thorough.
"We learned so much about the state of the 'arts' in our community," he said in the statement. "From the needs of our diverse arts and community groups to the dream of bringing Broadway to Frisco, the demand for the arts has never been higher. As a result, I am more confident than ever Frisco can support a premier performing arts facility benefiting the entire region. As this partnership project changes course, the neighborhood remains the city's most valuable partner.
Hall said in the release that Hall Group remains committed to increasing Frisco's access to the arts.
"Frisco has had an impressive track record of successful public-private partnerships, and while this particular partnership has changed course, we are still actively supporting the City of Frisco's development of a programmed community park that will include many artistic elements exciting, and we look forward to having more opportunities to work with these parties again in the future. he said in the statement.
Frisco ISD said it will continue with its original plan to build a facility that will serve not only performing arts with an auditorium, but also visual arts with gallery space. The facility will use the $43 million bond and be built on land the district already owns.
Meghan Cone, deputy director of communications for FISD, said no site had yet been chosen. Design work expected to begin this fall will help determine the best location, she said.
According to FISD, its facilities will be for students of all grade levels across the district's 75 campuses. Parameters include:
a maximum of 1,250 seats, more than double the 600-seat auditoriums already available in the district;
use of the facility more than 160 days per year with the possibility for outside groups to rent space not used by the district; and
plans to host future UIL and other competitive events to free up resources on individual campuses.
Frisco and Frisco ISD have been known for years for their public-private partnerships that have resulted in multimillion-dollar sports-affiliated developments. These include Riders Field (Frisco RoughRiders), Toyota Stadium (FC Dallas), Comerica Center (Dallas Stars), The Ford Center at The Star (Dallas Cowboys) and more recently, the PGA of America.