Early days of the Performing Arts Festival showcase the piano prowess of young musicians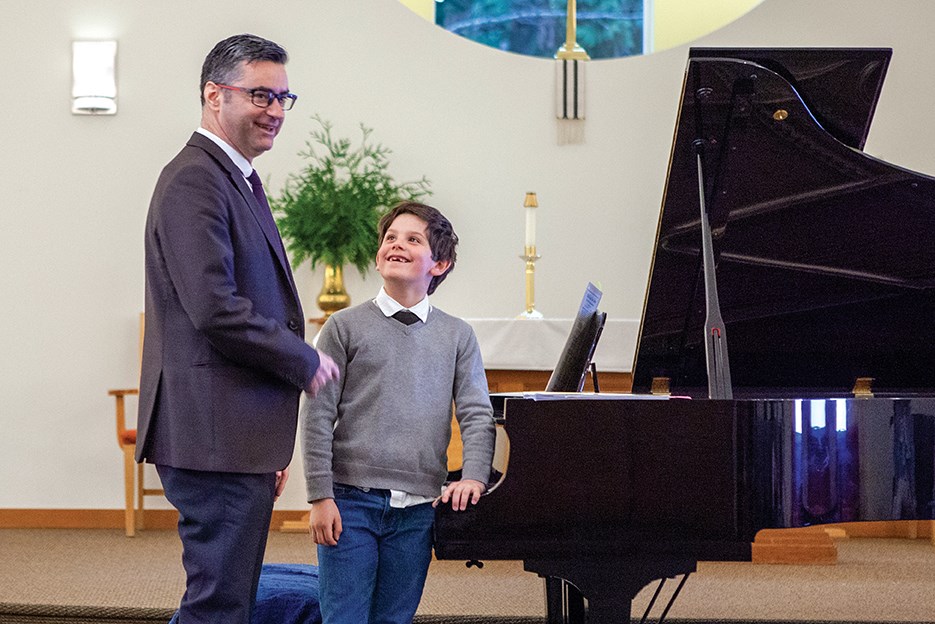 The 48th annual Sunshine Coast Performing Arts Festival kicked off its five-week live art exhibition on Monday, April 11, with two days dedicated to piano mastery.
The series of concerts and expert reviews marks a revival of in-person performances. The 2020 festival has been canceled and the 2021 event has moved to an online-only setting due to COVID-19 restrictions. The number of participants this year is slightly below pre-pandemic levels.
"I think maybe now it's just going to rebuild, slowly but surely, as people feel more comfortable," said Sarah Lowis, president of the Performing Arts Society's Sunshine Coast Festival. The organization was founded in 1973, making it the oldest festival on the coast.
"When registrations opened, we still didn't know what April would be like," Lowis said. "We planned to meet in person, then prepared to pivot again if we had to."
Scheduled performances are open to the public and are streamed via the festival website by volunteer Dan Tsuji. The festival's piano discipline coordinator, David Poon, hosted 12 keyboard sessions for pianists under 23, in addition to family duo performances featuring Katherine Hume with her children Allegra and Leif.
The two days of piano concerts at St. Hilda's Anglican Church in Sechelt were judged by Dr. Greg Caisley, a graduate of the University of Southern California and current Music Director of St. Paul's Anglican Church in Vancouver.
After each category of pieces played by the young pianists, Caisley gathered the musicians on a front bench for group instruction. He emphasized techniques to calm nervousness and stimulate the show. Then, in front of an audience of parents, instructors and other onlookers, he provided individual commentary to each performer.
Caisley established a light rapport with each player. "Look at the marking on that piece," he told Joveal Alilin, a contestant in the 11-13 category who performed Canadian composer Christine Donkin's Crazy Comics. "It is said with zest. What is spiciness? It's not fast, it's cool.
Sitting at the keyboard, Caisley sight-played passages from the competitors' pieces, demonstrating alternative interpretations. "Does that sound reasonable to you? Am I fair? he asked Sophie Trinh and Benjamin Beckingham, who competed in the Under-11 and 11-13 categories respectively. At the end of his crisp instruction, he raised his palms for a high five.
"Those are the things I missed the most during online music lessons," Caisley exclaimed. "No high five!"
Complementing the traditional categories of Baroque, Classical and compositions by Canadians (or by performers themselves, as in the case of Taho Shinagawa who performed his original work Misty Mountain), the festival board this year introduced a new award: the Black, Indigenous Award and People of Color (BIPOC) Composer and Author Award.
"We were in our strategic planning session trying to make sure we were inclusive and encouraging people," Lowis said. "The Discipline Coordinators have made every effort to select referees with this in mind. And the new award is for performers who play any piece by someone with BIPOC heritage.
In addition to the performances of the current competition, two public workshops are planned: a violin workshop on April 21 and an expression and drama workshop on April 29, each led by the judges of the respective discipline.
A house concert featuring fiddler Wesley Hardisty, a virtuoso instrumentalist from the Dene First Nation, will take place on April 22 before the festival concludes with a signature concert on May 7.
"We try to leverage as much as possible, taking this opportunity to share the expertise of those we bring in," Lowis said. "I just wish more audiences would come and be part of the audience."
Competitors in the bowed strings and folk instruments disciplines will perform at St. Hilda's Anglican Church April 19-21. A detailed schedule and workshop details are available online at www.coastfestival.com.