SAU Stages Musical 'Guys and Dolls' at Magnolia High's Performing Arts Center | University of Southern Arkansas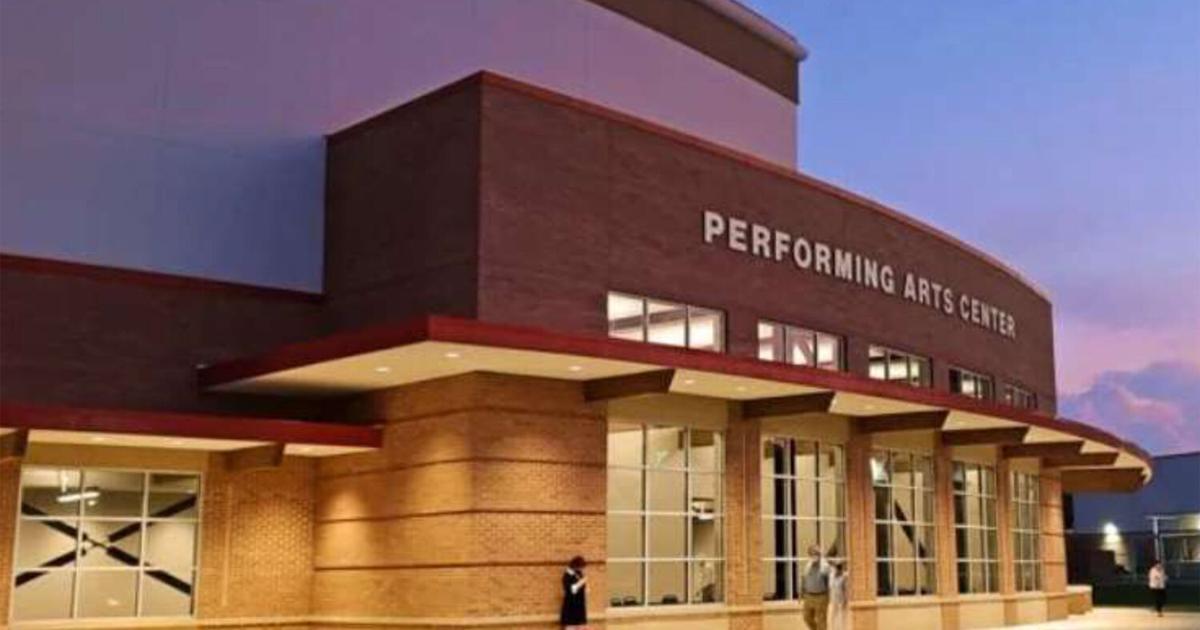 The Southern Arkansas University Theater Department will present the classic musical "Guys and Dolls" April 20-23 at the new Magnolia Performing Arts Center.
The show is a first collaboration between the Magnolia High School Theater Department and the SAU Theater.
The joint production is co-directed by SAU Theater Director Brittany Bara and MHS Theater Director and SAU alumna Eden Walker.
The Magnolia Performing Arts Center opened in August 2021. The $8.7 million building includes a 900-seat auditorium, projection/sound booth, set production, and prop storage areas.
"Guys and Dolls" is a 1950 musical classic full of love, gambling and New York gangsters. This whirlwind comedy revolves around Nathan Detroit, a player with a view to setting up the biggest craps game in town while his girlfriend, Miss Adelaide, laments that they've been engaged for 14 years.
In an attempt to reach a large sum of money, Nathan appeals to another player, Sky Masterson, for the money. Meanwhile, Sky attempts to woo Miss Sarah Brown, an evangelist devoted to saving sinners.
"Guys and Dolls" features memorable Frank Loesser numbers such as "Adelaide's Lament", "If I Were a Bell" and the classic "Luck Be a Lady".
"Guys and Dolls" will premiere at 7:30 p.m. April 20-23 and 2 p.m. April 24 at the Magnolia Performing Arts Center located at Magnolia High School.
Tickets will be sold to students for $5, $7 for staff and seniors and $10 for general admission. Tickets can be purchased at the box office. CLICK HERE to purchase tickets online.
http://www.showtix4u.com
To throw
Nathan Detroit – Austin Plunkett
Adelaide – Amber Gantt
Sarah Brown – Hannah Sullivan
Sky Masterson – Dalton Hale
Nicely-Nicely Johnson – Jazpyn VanAssche
Benny Southstreet – Alex Gray
Rusty Charlie – Ben Culp
Arvide Abernathy – John Orndorff
Lt. Brannigan – Joshua Bennett
Harry the Horse – Tate Tarpley
Angie the Beef – Grant Baker
Joey Biltmore – Benji Gessleman
Mimi – Jocelyne Parsons
Big Julie – Recco Sargent
General Cartwright – Lizzie McKee
Together — Shatabia Jordan, Joshlin Wiggins, Trista Bradshaw, Rae Tucker, Jaliah Larry, Lizzie McKee, Lindsey Zimmer, Madison Marcotte, LaZanee Miller, Alex Brewer, Lily Page, Mykala Clark, Jocelyn Parsons, Rhiana Eastland, Benji Gessleman
Crew
Co-directors — Brittany Bara and Eden Walker
Stage Manager – Amber Cromer
Assistant Stage Managers — Alana Ehrhardt and Rylee Creed
Production Manager — Danie Boyster
Technical Director — Gage Pilgreen
Music Director and Playwright — Michael Womack
Scenographic and lighting designer — Julia Mansur
In charge of scenic artist — Sevin Kacsir
Costume Designer — Imma Curl
Co-hair and makeup artists — Ayla Files and Rylee Creed
Sound Designer — Ben Culp
Accessories Designer — Madelynne West
Choreographer — Amber Michael
Conductor — Dr. Justin Nelson