Stepping out of the shadow of Covid – The power of the performing arts is felt in a simple hug | State and region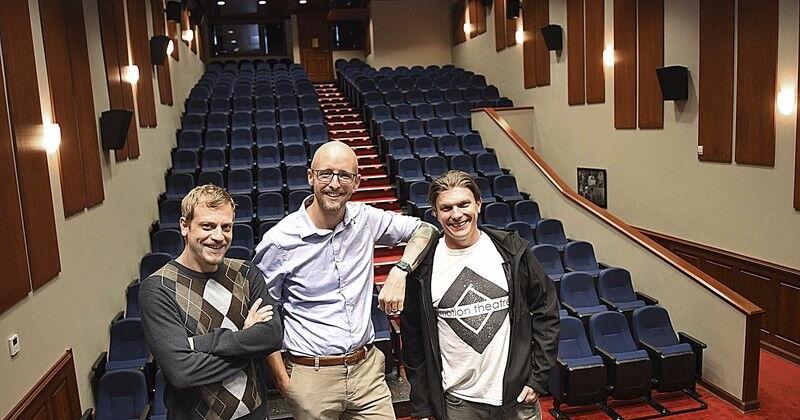 "We all felt bad about turning people away from the shows, but at the same time it was a great feeling," Adam Taylor said of the WV Collective's sold-out plays at Beckley's Raleigh Playhouse and Theater.
Taylor is one of three owners of the WV Collective, a non-profit organization dedicated to bringing the performing arts to southern West Virginia since 2018. The other two owners, Jamie Smith and Jason Lockart, also own Kid in the Background, a local marketing. solidify. They partnered with Taylor after several years of funding their own plays and hosting live music events in the area.
Smith and Lockart had previously brought the musical "Frack" to Beckley and produced it themselves. "We thought we could make some money doing what we love, but it cost us about $1,500," Lockart said.
Taylor graduated from the WVU School of Law in 2011 with a BA in Theater and Stage Management already under her belt. When he started practicing law, part of him thought he had wasted his time with that undergraduate degree.
"I had no idea I would end up working in the best of both worlds," Taylor said. "After teaming up with Jason and Jamie, I was able to use my legal expertise to help get the WVC off the ground."
Early on, the WVC brought several plays to Beckley, and they were all ironically and accidentally timed in their own way. For example, "Hedwig and the Angry Inch" is a rock musical centered around the victim of a botched gender reassignment operation, and it came at the same time that Beckley Town Council meetings were filled with crowds of both sides of a debate on a non-discrimination proposal. arrangement.
Then later, the play "Frack" was scheduled just as the fracking was making national news, and groups of protesters descended on the area, chaining themselves to pipeline equipment. It was hard to tell how these timing issues affected attendance, but there would be no doubting their next hurdle, the Covid outbreak.
The Covid lockdowns started just as the WVC was planning to hold Pubfest #3 at the Weathered Ground Brewery. Pubfests are one-day events filled with craft vendors, food trucks, live music, games and more, so lockdowns have effectively stopped in their tracks. There were also plans for another play production in 2020 titled "The Last Five Years," by Jason Robert Brown, but that was not to be either.
The WVC refused to let this new lifestyle detract from the entertainment of an already restless audience. That's when they decided to produce and run the first completely contactless "Virtual Pubfest".
When it comes to live music and theater, nothing compares to standing or sitting right in front of it, but the WVC was working on a way around that. In these days of unlimited internet, fans can still see their favorite great bands on any number of devices, but it's not that simple when it comes to local entertainment. The WVC made this possible for anyone who wanted to connect. Virtual Pubfest was a hit and they were planning to do the same. Taylor even wrote an entire production, designed specifically to appear online, but when restrictions began to ease, they returned to focusing on live entertainment.
It was no easy task to bring the performing arts back to a slowly adapting society. Their first post-pandemic play was "True West," with a skeleton cast and a crew of just eight. Smith and Lockart starred on the show themselves, because since they also work together, it kept possible exposure to others to a minimum. They even used family in the crew for the same reasons. They took every precaution and waited for the Covid numbers to drop to begin with.
"If even one person had gotten sick during production or rehearsals, everything would have had to be scrapped," Smith said. "We paid the playing rights, scheduled the theater on those particular dates, and going back would have meant the loss of our investment."
Besides the money, this investment included more than 300 hours each of time spent in pre-production.
For "True West" and all other post-pandemic events, the WVC took Covid very seriously. But even taking all the precautions, they could not foresee everything. Just as opening night of "True West" was drawing closer to them, the Omicron variant arrived and the Covid numbers started to rise again.
"We put extra space between vendors, had hand sanitizer available, and handed out masks to anyone who wanted one," Taylor said. "We even stayed in touch with the Health Department days and weeks after the events, making sure no outbreaks were reported."
No issues were reported.
Unlike more populated areas, very little money is made producing shows in southern West Virginia.
"When a production is finished and we split the funds, cast members often end up earning just $1 an hour for their hard work," Lockart said. "When cast and crew put in 300+ hours for $300, you know they're really there for the art."
The same goes for owners.
They still have to pay themselves a penny for their efforts, which makes one wonder why they do it.
"One night at a dress rehearsal for 'Hedwig,' we had a guest who was a reporter from a world famous newspaper," Taylor said. "He told us the level of production he witnessed was on par with what he expected from national broadcasts. Things like that really help validate all the hard work and battles of Covid for me."
"It's the power of art that keeps me going," Smith said. "As crowds leave a room, they regularly stop to hug me, and many even cry. You can actually see people making connections with characters. Connections they might never have tied otherwise."
Smith said too many people grow up thinking the performing arts are long, boring wastes of time, and the WVC aims to change that view.
"For me to start this was more than a promise to my community, it was an oath."
Smith said Covid was never strong enough to stop an emotional hug.
"Unlike the other guys, I had absolutely no theater experience," he said. "I stepped out of my comfort zone and found something I had no idea I was good at."
Lockart is certainly no stranger to the performing arts. In addition to performing in several high school plays, he traveled for five years as a guitar technician and backline technician for The Electric Light Orchestra.
"For me, it's about showing people what they're capable of," he said. "Whether someone is volunteering at a festival, learning to operate lights, or taking part in a stage performance, they often gain a whole new appreciation for themselves."
Lockart's goal is to put aside the "good enough" attitude and try to make everything as good as possible.