The Performing Arts Center announces events for the 2022-23 season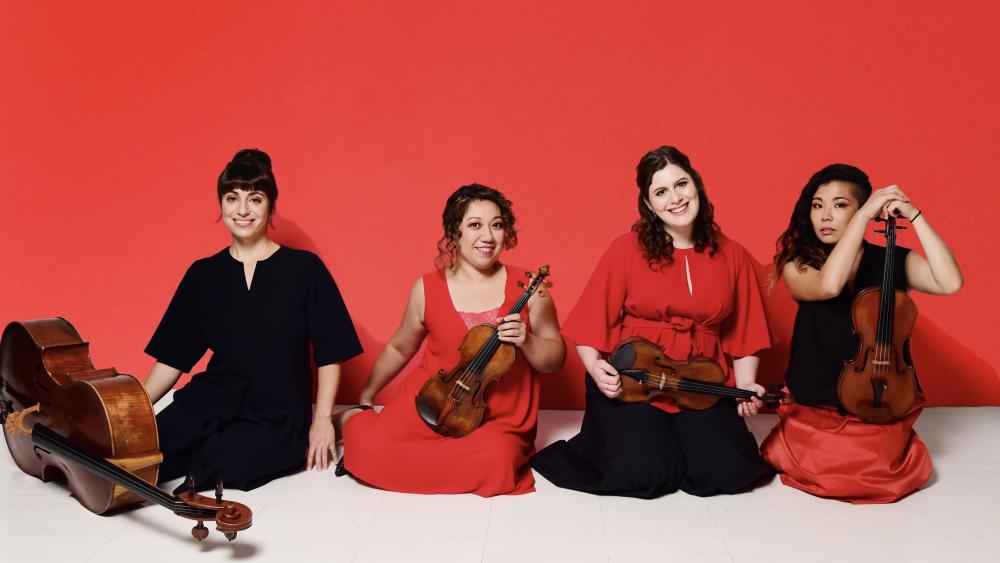 School-time programs
"I am thrilled to restart our in-person performances of School Matinee for Young Audiences, which have been virtual for two years," said Frederick.
Central Pennsylvania homeschool educators and instructors are encouraged to consider student-friendly programs scheduled for 2022-23. Each program includes educational materials that meet recognized learning standards. Visit the center School Time Programs Page for more information.
The in-person school matinee events, each at 10 a.m. in the Eisenhower Auditorium, are:
Soweto Gospel Choir, Tuesday, November 29.
"In the Year of the Boar and Jackie Robinson", Monday, February 6.
Soul Science on "Make a Joyful Noize", Thursday, March 23.
Flip Fabrique in "Muse", Wednesday March 29.
The School-Time Virtual online event is "Jabari Dreams of Freedom", airing Monday, November 7 through Friday, November 18.
Thanks
A grant from the University Park Student Fee Board makes ticket prices possible for Penn State students. It also makes virtual programs free.
Thanks to Penn State School of Theater and Penn State School of Music for hosting selected performances on their stages.
Support during the 2022-23 season is provided by Gerald BM and Sylvia Stein Endowment; George Trudeau Foundation for Diversity, Equity and Inclusion; Penn State International Dance Ensemble Endowment Fund; Debra Lee Latta and Dr. Stanley E. Latta Endowment; the Norma and Ralph Condee Endowment for Chamber Music; John L. Brown Jr. and Marlynn Steele Sidehamer Foundation; endowment of the Eisenhower Auditorium; Sidney and Helen S. Friedman Endowment Fund; Robert and Sonia Hufnagel Endowment Fund; McQuaide Blasko Foundation; Dotty and Paul Rigby Classical Music Endowment; Pieter and Lida Ouwehand Foundation; access program endowment Janelle Bessette and Keith Karako; William E. McTurk Endowment; and the Nina C. Brown Endowment.
As of Wednesday, August 24, Pieter W. and Lida Ouwehand, Lam and Lina Hood, Susan and Lewis Steinberg, and Chad and Laura Mitchell are sponsoring events during the 2022-23 season.
Find the Performing Arts Center on Facebook, Twitter and instagram.
PERFORMING ARTS CENTER IN PENN STATE 2022–23
Artists, programs, dates and times are subject to change.
"Prince Hamlet"
A bilingual theatrical production Why Not
Adapted and directed by Ravi Jain
ASL and visual translation by Dawn Jani Birley
7:30 p.m. Friday, September 16
2 p.m. and 7:30 p.m. Saturday, Sept. 17
Playhouse Theater
Malpaso dance company
An associate company of Joyce Theater Productions
7:30 p.m. Thursday, September 29
Eisenhower Auditorium
Classic coffee with the Aizuri quartet
8 p.m. Wednesday, October 5
Robb Hall of the Hintz Alumni Center
Aizuri Quartet
"Sunrise"
7:30 p.m. Thursday, October 6
School of Music Recital Hall
Miguel Zenon Quartet
"Music of the Americas"
7:30 p.m. Tuesday, October 11
School of Music Recital Hall
"A wonderful order"
An opera about Robert Moses and Jane Jacobs
Music by Judd Greenstein
Libretto by Tracy K. Smith
Animation and direction by Joshua Frankel
7:30 p.m. Thursday, October 20
Eisenhower Auditorium
Delfeayo Marsalis and Uptown Jazz Orchestra
7:30 p.m. Thursday, November 3
Eisenhower Auditorium
Return of the Kings
8 p.m. Thursday, November 10
School of Music Recital Hall
Soweto Gospel Choir
"Hope: It's been a long time coming"
7:30 p.m. Tuesday, November 29
Eisenhower Auditorium
"In the Year of the Boar and Jackie Robinson"
Honolulu Youth Theater
2 p.m. Sunday, February 5
Eisenhower Auditorium
Munich Symphony Orchestra
Nodoka Okisawa, head chef
Robert McDuffie, violinist
7:30 p.m. Wednesday, February 15
Eisenhower Auditorium
"A permanent witness"
with Susan Graham, mezzo-soprano
and music by Copland House
7:30 p.m. Tuesday, February 21
Eisenhower Auditorium
Soul Science Lab
"Make a Cheerful Noise"
7:30 p.m. Thursday, March 23
Eisenhower Auditorium
Return the Factory
"Muse"
7:30 p.m. Tuesday, March 28
Eisenhower Auditorium
Amir El Saffar
and Ensemble of the Two Rivers
7:30 p.m. Tuesday, April 4
Eisenhower Auditorium
"Our Planet" in concert
With the Penn State Philharmonic Orchestra
7:30 p.m. Tuesday, April 11
Eisenhower Auditorium
"Fiddler on the Roof"
7:30 p.m. Tuesday, April 18
Eisenhower Auditorium
Takács String Quartet
with Julien Labro, bandoneonist
7:30 p.m. Thursday, April 20
School of Music Recital Hall