The performing arts on the road to recovery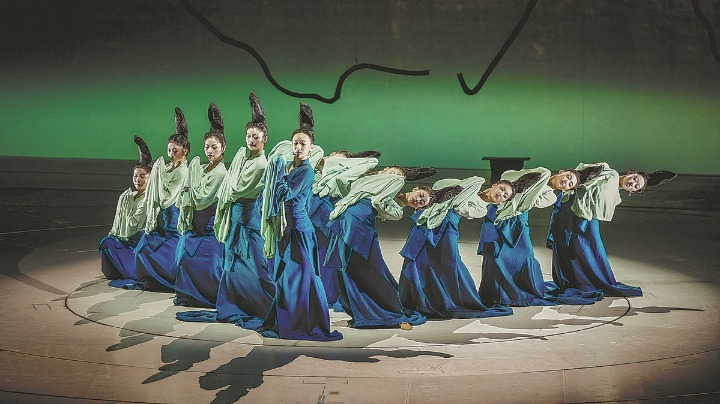 Audiences return to concert halls across the country
At 7:30 p.m. Sunday, some 40 days after all of its scheduled concerts were canceled, the China NCPA Orchestra, the resident ensemble of the National Center for the Performing Arts, returned with a live concert at the venue.
The online performance officially marked the reopening of the NCPA to concert audiences the next day.
The orchestra performed two of German composer Ludwig van Beethoven's best-known works, Symphony No. 5 in C minor Op. 67 and Symphony No. 3 in E flat major Op. 55, under the direction of the conductor Lyu Jia orchestra.
Despite having no physical audience, the concert drew over 21 million views on social media platforms.
Gong Jicheng, vice president of NCPA, said, "We prepared for this concert for several weeks because we knew that one day we would resume our performances.
From April 26 through Sunday, the NCPA canceled more than 140 concerts and public events due to the COVID-19 outbreak.
Lyu, also artistic director of music for the NCPA and music director of the China NCPA Orchestra, said the performances of Beethoven's symphonies were dedicated to audiences who greatly missed attending live concerts during the outbreak.
Symphony No. 5 in C Minor, Op. 67, also known as "Destiny", is arguably one of the composer's best-known works among music lovers in China and around the world.
Lyu said, "This symphony has received many interpretations, but is generally understood to express humanity's positivity and determination to never give up in the face of a difficult situation.
"We chose to perform it during the first half of the concert because it reflects the difficult situation we have been experiencing lately, especially the ominous four-note opening motif of the symphony, which is often interpreted as the musical manifestation of fate knocking at the door."
Lyu said Symphony No. 3 in E flat major op. 55, also known as "Eroica", was performed to signify the heroism shown by everyone.
"We overcame every obstacle to bring our lives back to normal. In particular, this performance is a tribute to the heroes of the epidemic – the medical staff, delivery people and other people whose work suddenly exposes them to a greater risk," Lyu added. .
At 5 p.m. Sunday, the NCPA opened ticket sales for the next day's concert, which again featured Lyu conducting the orchestra in Beethoven's two symphonies. It was the first live concert with a physical audience held in Beijing since the local outbreak was brought under control. According to the NCPA, tickets sold out within four hours.
Gong said, "To keep audiences engaged, the NCPA held nine online concerts, which attracted approximately 200 million views. However, virtual concerts cannot replace the joy of attending a live performance.